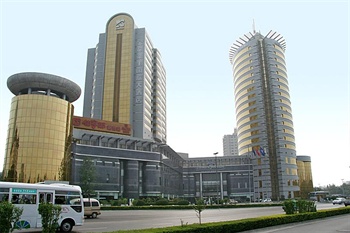 The Howard Johnson Plaza Hotel (Jinhuahaosheng Guoji Dajiudian) is located in downtown Xi'an, near the city's south gate. Yongningmen Station of Xi'an Metro Line 2 is just a two minute walk away allowing easy access to many of the city's sites. Xi'an Railway Station is just 5 km (3 mi) away while Xianyang International Airport is approximately 45 minutes away by car.
Guests looking to dine on site can choose from both Chinese and Western cuisine. The bar and coffee shop also make a great place to catch up with friends over a beverage.
For those with business requirements the hotel can offer a variety of conference rooms and the services of the business center, as well as an executive bar.
Guests of this Xi'an hotel can enjoy free Wi-Fi in public areas as well as free parking. In their spare time guests can hit the gym for an intense workout or indulge with a foot massage. For some lighter entertainment the hotel features karaoke rooms, billiards and table tennis.